Christoph Korn
Born in 1965 (Frankfurt a.M., Germany_)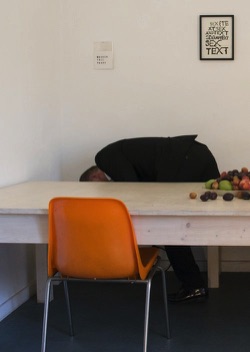 Christoph Korn studied Political Science, Philosophy and Pedagogics in Frankfurt upon Main at the Johann Wolfgang von Goethe University.
In the 1980's, he was involved in political contexts and worked with street children in Rio de Janeiro and Sao Paolo in the context of a liberation theological project in 1988 and 1989.
At the beginning of the 1990's his first artistic works emerged.
Christoph Korn's work moves along the interface between audio and media art. To put it into practice, he has used various means of artistic expression: web-based work, film, installations, conceptual art, radioplay and composition. In the last few years, his artistic works have been based increasingly on strategies of masking, deleting or removing. Occasionally, he has used long durations to give his ideas form.
His works were exhibited and performed at numerous international festivals of contemporary music and media art. He has received international awards and grants such as 2009 Prix Ars Electronica, Honorary Mention (Digital Music) for his net-based work "Waldstueck". 2011 Scholarship of the Federal German Study Center Venice. 2014 Scholarship Stiftung Kunstfonds, Bonn. 2019 Prix Marulic (Distinction). 2020 CityÁRTist Award NRW. Radio productions for intermedium Center for Art and Media ZKM/Karlsruhe, SWR, HR, WDR, SFB, DLR, SDR, art radio ORF.
Christoph Korn is a lecturer at various universities.